Double Drop Deck Trailer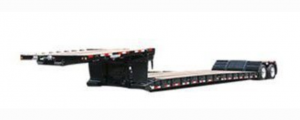 Double drop deck trailers are used for oversized freight that has a height of 10 feet or more. It has a longer piece of the trailer, called a "well," in the middle that dips below the trailer axles. The well ranges from 25 to 29 feet, making it ideal for taller, shorter freight. Double drop deck trailers usually have 2 or more axles and a "flip axle." It can flip up and lay on the deck or flip down and create an extra axle for balancing weight. Here are some examples of this kind of cargo:
Cars
Trucks
Construction equipment
Forklifts
Tanks
Double drop decks have the standard electrical and air connections at the front to allow break and radar lights to be powered and breaks to receive the air pressure they need.
Many modern double drops are made entirely of aluminum making them light but limiting their weight capacity. They have storage bins for dunnage to secure or help ventilate the cargo.
Our Double Drop-Decks can haul freight with the legal maximum weight and dimensions. Our trailers are typically used when moving Over Dimensional freight and can range from 48' to 53' in length giving you multiple options to fit your specific cargo needs.
Double Drops are very similar to Removable Gooseneck Trailers (RGNs) except that they are not as heavy-duty. They great for long-hauls but not for heavy-hauls. They have a weight-capacity of around 45,000 pounds while RGNs can go as heavy as 150k.
Double Drop Decks can sometimes extend (extendable or expandable double drops) but they don't have the additional axles as RGN.
Maximum Hauling Capacity of Double Drop Deck Trailer:
45,000 lbs.
Maximum Freight Hauling Dimensions:
Main Deck:

29'4" Long x 8'5" Wide (102") x 11'5" High (138")

Front Deck:

10' Long x 8'5" Wide (102") x 9' High (108")

Rear Deck:

8'6" Long x 8'5" Wide (102") x 10' High (120")

Size:

53' x 102" with flip; 48' x 102" without flip; 29' well – 10' top and 9' rear

Deck heights:

20" – 26"
Potential Capabilities:
Modular units, machinery, OD freight, Crated cargo, Oilfield equipment, Construction equipment.
Use OverweighPermits.com, to get your Double Drop Deck Trailer fast and easy. Contact us at (888) 799-8858 or get a free quote on our website at www.overweightpermits.com