Hawaii Oversize/Overweight Permits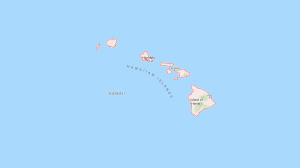 Permits:
Permits are valid only for dates specified. The permit covers only the person or firm designated as permitted and is not transferable. The permit shall be carried in the vehicle during the movement. For Annual permits, a copy of the permit is carried in the vehicle and the original permit must be readily available for inspection from the operator's offices in the county of issuance.
Operating Hours:
Travel is allowed during daylight hours, except during peak hours. Divisible load permits are not available. Operating time is specified on the permit. Night travel may be authorized in the permit for oversize or overweight vehicles. Authorized weekend travel will also be noted on the permit. Movements on Saturdays and Sundays are at the discretion of the applicable district engineer.
Permit Types:
Single Trip
 — valid only over a specified route between pre-determined points of origin and destination
Continous Trip
 — should not be more than 1 year (for loads less than 12' wide and an overall length of less than 70')
Annual Trip
 — valid for 1 year
Overweight Permit
 —
Oversize Permit
 —
Legal Dimensions
Width:
9'
Height:
13'6"
Weight: 

Single(steer) – 22,500 lbs.
Single – 24,000 lbs.
Tandem – 34,000 lbs.
Tridem – 42,000 lbs. (8' spacing)

-Federal Bridge Formula Applies
Length:

Single: 40"
Semi-trailer: 58′
Overall length: 65'
Doubles (overall length): 65'

Overhang:
4' – front 4' – rear
Permit Limits
Width:
16′
Height:
No set limit
Length:
No set limit
Weight: (Gross weight is 88,000 lbs)

Single – 48,000
Tandem – 84,0004

Any weights over legal allowance require bridge survey.
Escorts and Signs
Labeling:
Signs reading "wide load" are required on all vehicles over 12′ in width. A sign must have a yellow background with black letters 10″ high. Sign dimensions must be 6′ x 1′. Red flags 24″ square are required on vehicles over 12′ in width.
Escort Vehicles and Personnel:
Vehicles over 12′ in width must be accompanied by a lead escort. Two escorts are required for vehicles over 14′ in width.
Certification:
 Pilot Car Escort Certification is not a requirement.
Restricted Travel
Travel may be restricted on state highways during the following hours 5:00–8:30 am and 3:00–6:00 pm. Hawaii Administrative Rules Chapter 19-101 establishes restricted movement of overweight vehicles along and upon Hana Highway between Kailua Village and Hana Town. (Restricted gross weight of less than 10 ton without a permit)