Overweight Permits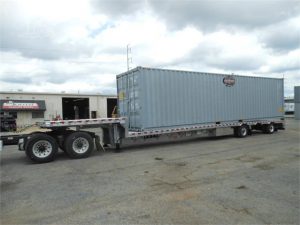 Overweight permits are special types of temporary permits that authorize the movement of vehicles with a gross weight that exceeds the legal weight limit. This oversize overweight permit may be issued after a weight analysis of the planned route. The weighted analysis may delay your permit by 24 to 48 hours.
Generally, all vehicles and trailers for which special permits are requested shall be licensed in accordance with the state's licensing laws. For vehicles up to 125% of the legal weight limit that cover scheduled moves or specific routes, extended overweight permits may be requested. These extended permits can last up to a maximum of one year in one-month increments.
When Do I Need to Get My Overweight Permit?
A state will issue an overweight permit only when the vehicle is equipped with pneumatic tires of an adequate width. This is to provide an effective supply of weight on the surface of the roadway. The requirements for an overweight permit by state may differ.
State authorities will not request overweight permits during the seasonal highway weight restrictions period for the operations of vehicles on roads where restricted weight limits have been ordered by either the Commissioner of the Department of Transportation and Public Facilities or their authorized representatives. However, this doesn't include cases of extreme emergency. If the dimensions of your vehicle exceed the following limits, some postponement may result, depending upon the route and state, as the regulations for the overweight permit by state differ.
| | | | |
| --- | --- | --- | --- |
| Single Axle | 30,000 lb | 4-axle tandems | 80,000 lb |
| 2-axle tandems | 56,000 lb | Tire Loading | 700 lb/in. |
| 3-axle tandems | 70,000 lb | Gross Weight | 150,000 lb |
Violations
Violation of the provisions of the oversize overweight permit with respect to the following standards will result in the instant cancellation of the permit:
Route of travel
Hours of travel
The rate of travel
Required equipment
Overweight Permits with OverweightPermits.com
At OverwightPermits.com, we know how busy truckers and trucking company owners are. We also understand that filing paperwork is not an easy task when you are not familiar with the regulations and registration process. Because of this, OverweightPermits.com is here to help you obtain and pay off your special permits. We are extremely knowledgeable of what is required to obtain the overweight permit by state. We are always there to provide you with the best service and help you obtain your oversize overweight permits. It's our main priority to get our customers to their destinations safely and securely. Our free quote is available on our website. Feel free to fill it out. You can also contact us by calling (888) 799-8858. We will be happy to help you.