Trailers with 13 or More Axles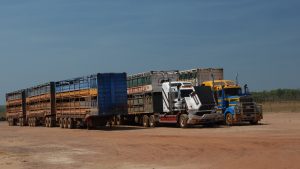 A 13-axle trailer can be used to:
Haul loads that require extremely long flatbeds due to their length.
Transport extremely heavy loads that weigh up to 95 tons.
Haul wind, construction and mining equipment, such as 2.5 and 2.75-megawatt wind turbines and wheel dozers.
Some tips about 13 axle trailers
118" flip neck that extends to a 14' 3" upper deck
30' main deck that boasts a 26" loaded deck height and a 6" ground clearance
21' rear deck that has a 44'' loaded deck height
Typical Dimensions for 13 Axle Trailers
Deck Type: Parameter
Deck Length: 30′ to 90′
Width: 10′ 0″ to 20′ 0″
Height: 1′ 2″
Max Weight: 95 Tons (190,000 lbs.)
13 Axle Air Ride Steerable Specifications
80-ton trailer (approx. weight: 64,000 @ 10′ wide deck with 28′ in the well).
Yokohama 255/70R 22.5 tires mounted on Alcoha hub piloted wheels (18 outside wheels polished as standard).
PPG Del fleet paint and primer to customers' requirements.
Ridewell air ride suspension.
Hydraulics powered by quality Honda motors to provide long-lasting dependability.
24″ of lift for jeep and dolly towers.
3″ x 12″ Apitong hardwood on the perimeter with 3′ x 12″ Douglas fir inside.
LED lighting throughout trailer is coupled to a sealed wire harness for increased reliability.
28′ in the well standard deck with a beam deck and extensions available as options, making for a versatile trailer to fit your exact needs.
Remote steering as standard equipment.
To learn more about OverweightPermits.com services and rates, please, give us a call at (888) 799-8858.