Step Deck Trailer – Drop Deck Trailer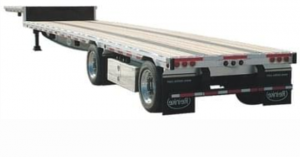 Step deck trailers are otherwise known as drop deck trailers. They are, indeed, a version of the flatbed trailer design, and it mainly consists of a bottom and a top deck. These trailers are specifically designed to carry and haul freight that cannot be carried or transported on a standard type of flatbed, which is usually due to height restrictions. Step or drop decks are perfectly designed for heavy-haul freight carrying over long distances. The cargo can have a wide variety of dimensions, from pipes to heavy-duty equipment, vehicles, turbines and more.
The maximum legal dimensions and weight for a step deck trailers are:
Maximum Step Deck Hauling Capacity:
48,000 pounds
Step Deck Maximum Freight Dimensions:
| | |
| --- | --- |
| Maximum Step Deck Trailer Length | 48 ft – 53 ft |
| Maximum Step Deck Trailer Width | 8.5 ft |
| Maximum Legal Freight Height | 10 ft |
Potential Capabilities:
Lumber, equipment, pipe and steel, oilfield products, concrete products, and coils.
Specifications:
Size: 51' x 102" A/R tri-axle; 40' bottom deck w/container locks (20's & 40's) & 11' top Size: 53' x 102" A/R; closed tandem, spread axle & tri-axle; 42' bottom deck & 11' top Deck heights: 35" – 42" Most standard Step Deck trailers can haul freight at the legal maximum weight and dimensions. Step deck flatbed trailers have multiple forms, from Single Drop Decks to Double Drop Decks, Double Drop Trailers with Detachable Decks/Lowboy Flatbeds, Stretch Drop Decks, and Stretch Double Drop Deck Trailers. Having a problem with getting your step deck trailer permit? Or are you looking for a safe company to get any kind of permit in any state? OverweightPermits.com will help you get your permits easily and safely! For more information, give us a call at
(888) 799-8858
or visit our website at
www.overweightpermits.com
.