State Requirements for Escort Vehicles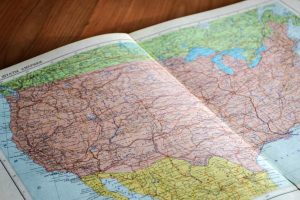 The requirements for escort vehicles vary from state to state. However, there are some general requirements that almost all escort vehicles have to follow. They are as follows:
The front escort must have amber safety lights that others can see from 360° and at least 500 feet away.
One sign each displaying "Oversize Load" must be on the front and rear of the escort vehicle. The other version is one sign that displays "Oversize Load" on both sides. This sign can be mounted on the top of the vehicle.
The "Oversize Load" sign must be at least 5 feet wide and 1 foot high, with 8-inch letters with a 2-inch brush stroke.
Requirements for Front Escorts
The front escort is to ensure that approaching vehicles are cautioned of the approaching oversized load. It can be difficult to get traffic to stop for something such as a narrow bridge because it is illegal for the front pilot/escort to cross the center line into the oncoming lane. So, the front escort generally goes far enough in advance to caution the trucker through CB radio about approaching traffic. It is on the driver to be able to stop before the bridge or approaching hazard. Then, they must wait until the escort driver relays back to the driver that it is safe to cross without the fear of oncoming traffic.
Requirements for Rear Escorts
The rear escort may have obligations such as staying in one or more lanes other than the lanes that the truck and load are occupying. This is to block traffic while the truck and trailer make their turns. In addition, the rear escort may also make sudden lane changes. This is generally because the truck needs to change lanes because of an obstruction in the road ahead, such as an end of lane or one or more vehicles parked on the shoulder of the road, such as police or tow trucks.