Flatbed Stretch Specifications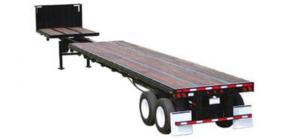 Flatbed stretch trailers are also referred to as extendable flatbed stretch trailers. This kind of trailer is mainly used for carrying very long loads that cannot be fitted on a standard type of trailer. It is a type of trailer that provides maximum support, preventing the risk of overhanging freight.
The limits differ for how far a load can extend over the edge of a trailer depending on the state vehicle code. We have a team that will help with any kind of detail, including the permitting and inspections.
The maximum legal dimensions and weight for flatbed stretch trailers are as follows:
Extendable Flatbeds Maximum Freight Weight: 43,000 pounds.
Extendable Flatbeds Maximum Freight Dimensions:
| | |
| --- | --- |
| Maximum Trailer Length | 48 ft – 80 ft |
| Maximum Trailer Width | 8.5 ft |
| Maximum Legal Freight Height | 8.5 ft |
Potential Capabilities
Risers, concrete columns, bridge beams, flare stacks, and derricks
OD pipe
Regular flatbed loads, including lumber and pipe
Specifications
Description: Opens up to 90'
Size: 48' x 102" closed; open 80'; A/R
Size: 53' x 102" closed; open 90'; A/R
OverweightPermits.com
Let OverweightPermits.com help you determine the best choice to give you the best service. We will use your specifications, including total freight weight and also the overall dimensions, to assess accurate rates. Moreover, contacting our friendly agents will give you the chance to know if the kind of trailer you will be using needs state permits for carrying your load or freight. We are a team of professionals that are extremely well educated, trained and experienced in the field of North American freight transportation.