Oregon Oversize/Overweight Permits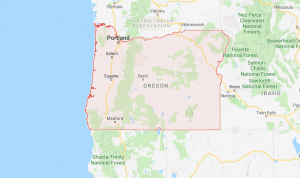 PERMITS
Oversize permits in Oregon are valid for 10 days. Before entering the state, you must purchase these permits.
OPERATING TIME
From Labor Day to Memorial Day, oversize and overweight transport is permitted from one-half hour before sunrise to one-half hour after sunset, seven days a week. From Memorial Day to Labor Day, Saturday travel is legal only until noon and not at all on Sunday for loads exceeding 14 feet wide. This travel also comes with route restrictions. These loads can only travel on Interstate Highways west of the summit of the Cascade Mountains and any authorized highway east of the summit of the Cascade Mountains. However, those which do not exceed 14 feet wide can travel on weekends during daytime hours. Additionally, loads up to 10 feet wide can travel on "green" routes, and loads up to 12 feet wide on Interstates may travel at night.
LEGAL DIMENSIONS
Weight: (equal to 600 lbs. per inch of tire width)

Single Axle – 20,000 lbs.
Tandem – 34,000 lbs.
Gross weight – 80,000 lbs.

Overhang:
5′
Length:

53′ semitrailer
No overall limit on certain designated routes.
Group 1 routes – 60′

Note: Trailers exceeding 53′ in length are not allowed unless they must be stretched for a load, and can be reduced to 53′ when unladen, or are in a combination with jeeps or boosters.

Height:
14′
Width:
8′ 6″
PERMIT LIMITS
Width:
16′
Overhang:
Rear overhang cannot exceed 1/3rd of wheelbase of the tractor/trailer combination.
Length:
105′
Weight:

Single – 21,500 lbs.
Tandem – 43,000 lbs.
Steer – 600 lbs. per inch of tire width (13,200 on 11″ tires)

Permits allow 80,000 lbs. up to 105,500 lbs. max.

Height:
Depends on the route travelled.
Loads exceeding the following are considered super loads, and may take extra time for approval:
16′ wide on the Interstate
14′ wide on 2-lane highways
17′ high
150′ long
Many districts do not grant permits for loads over 16 feet wide. Each district decides whether or not to grant permits. Therefore, if your load is that wide, you should consult the districts through which you wish to travel.
SIGNS, FLAGS & LIGHTS
"Oversize Load" signs are explicitly required on the front of the tractor and at the rear of the load or trailer on all wide loads and vehicles/loads over 80 feet long. In addition, the sign must be reflective if transport occurs at night. Flags are required on the outermost extremities of all wide loads. When traveling at night with a wide load, the outermost extremities must be illuminated by lamps or marker lights (amber for forward and intermediate side markers, red for rearward markers). A rear overhang of 4 feet or more must be marked with a flag or, in darkness or visibility less than 500 feet, with red end load lights. When the width of the load exceeds 10 feet on a two-lane highway or 12 feet on a multi-lane highway, amber warning lights are required on the cab unless operating with a minimum of two pilot cars.
For further information, see the Oregon provision sheet 82A for specifications.
RESTRICTED TRAVEL
Many municipalities and districts throughout Oregon restrict travel for oversize loads. The Portland, Medford, Grants Pass, Eugene, and Salem urban areas all restrict oversize travel. It is also restricted on non-Interstate Highways, on I-5 in Portland from the WA state line to the junction of OR217, and in Medford on I-5 between exits 24 and 33. Loads wider than 12 feet are prohibited from traveling between 7:00 and 9:00 a.m. and 3:00 and 6:00 p.m. Only if the loads are over 12 feet wide do these restrictions apply. If the width exceeds 14 feet, see provision sheet 82A for further information.
You can also obtain any trip and fuel permits you may need with our sister site!