Arizona Oversize/Overweight Permits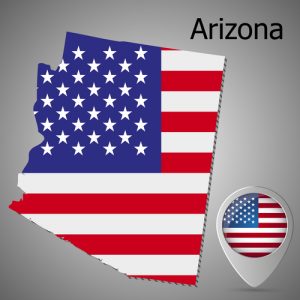 PERMITS: Arizona oversize permits are valid for four days. Drivers have the option of purchasing permits at most Ports of Entry.
*What is an oversize permit? Click here.
OPERATING TIME: Daylight hours, (one-half hour before sunrise to one-half hour after sunset). Loads/vehicles not over 10′ wide or 14′ high or not over 10′ rear overhang are allowed continuous travel. Loads not over 14′ wide, 16′ high, 120′ long and 250,000 pounds may travel on Interstate and specified state routes from 3:00 a.m. to 12:00 noon on weekends (except on holiday weekends and in curfew areas), but this must be requested when permit is ordered and must be stated on the permit. Note that loads over 11′ wide will be required to have one escort to travel from 3 a.m. to noon on weekends, and loads 15′ high and over will need escort with a height pole.
Permits are usually valid for four days, 96 hours. Travel is permitted ½ hour before sunrise and no later than a ½ hour after sunset. Operators of vehicles/loads no greater than 10′ wide and 14′ high are allowed continuous travel day, night, weekends and holidays.
LEGAL LIMITS
Length:

40′ Straight trucks

53′ semitrailer* non-designated or 53′,  65′ overall

57′ semitrailer

28'6″ Double Trailers

75′ auto transporter

Width

8'6"

Height:

14'    (13'6″ if the maximum height of the route is further restricted)

Weight:  (Gross weight is 80,000 lbs)

Single Axle – 20,000 lbs.

Tandem Axle – 34,000 lbs.

Steering Axle – 20,000 lbs.

Tridem Axle – 42, 000 lbs.

 

Overhang

Front – 3′

Tire Width

8′ wide axles with 8

tires can add 15%,

10′ wide axles with

8 tires can add 25% (to the axle loading)

14″ or wider oversize wheels get a 15% weight increase

Escorts/Pilot Requirements
On 2-lane Highways
Width 
Over 14′ – 1 or more escort pilot cars

(Some restricted routes may require 2 escort pilot vehicles for over 12′ wide vehicles and some for over 10′ wide vehicles)

Height
Over 16′ – Needs 1 or more escort pilot vehicles
Length
Over 120′ –  Needs 1 or more escort pilot vehicles
Overhang
Front or rear 20′ – Needs 1 escort pilot vehicle
On 4-Lane Highways or Interstate Highways
Width 
Over 14′ – Needs 1 escort

Over 15′ – Needs 1 escort with High Pole

Over 16′ – Needs 1 escort and High Pole (requires a special permit)

Over 17′ – Needs a public utility escort

Combination
More than 12′ wide and 14′ high – Needs 2 escorts and high pole rear
SIGNS, FLAGS AND LIGHTS
All overwidth vehicles or loads surpassing 9′ in width should display "Oversize Load" signs. All over width loads and vehicles should have a red flags 12″ square or larger on extremities. Any front or rear overhang should be lighted and flagged. Up to 10′ overhang may travel at night but should be flagged and lit. There are no sign or flag requirements for overheight only or overweight only loads.
RESTRICTED TRAVEL
Movement is prohibited during inclement weather when in the opinion of the issuing agency conditions prevail which would make the movement unsafe. Secondary highways are restricted to 40 m.p.h. and may be posted for a lesser weight. No oversize movement through the greater Little Rock area from 7:00-9:00 A.M. and 4:00-6:00 P.M. on Interstate 30 – M.M. 137-143, Interstate 40-M.M. 151-155 and all of Interstate 630. No overwidth vehicle shall follow another overwidth vehicle closer than 1,000′.