New Mexico Oversize/Overweight Permits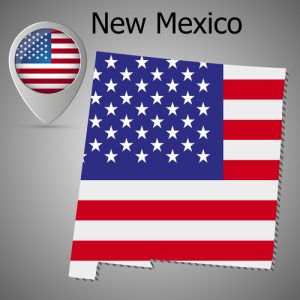 PERMITS: New Mexico oversize permits are valid for three days. New Mexico permits can also be purchased at Ports of Entry provided the size of the load does not require a bridge check or route survey.
OPERATING TIME: Sunrise to Sunset, Monday through Saturday. No Sunday travel. Overweight-only (up to 140,000 pounds gross), can have continuous travel on Interstate and 4-lane highways but a pilot car is required!
LEGAL DIMENSIONS
Height:
14′
Width:
8'6″
Length:

57'6″ trailer on designated highways
65′ overall length on all other roads

Overhang:
3′ front and 7′ rear
Weight: (Gross weight is 80,000 lbs)

Single – 21,600 lbs
Tandem – 34,320 lbs
10′ Spread – 39,000 lbs
Tridem – Depends on spacings
ROUTINE PERMIT LIMITS
Length: Depends on routes.
Width: Depends on routes.
Height: Depends on routes. 15′6″ needs a route survey; 18′ needs utility surveys and needs to be cleared from municipal and local authorities.
Weight:
Gross Weight
5 axles – 105,000 lbs.
6 axles – 119,000 lbs.
7 axles – 133,000 lbs.
Single – 23,000 lbs. on Interstate, 18,000 – 20,000 lbs. all other roads, depending on spacings
Tandem – 46,000 lbs.
Tridem – 60,000 lbs.
Quad – 68,000 lbs.
Note: NM treats spread combinations equal to or more than 10′ as a tandem rather than two singles.
ESCORTS FOR WIDELOAD AND OVERSIZED SHIPPING
On All Highways:
| | |
| --- | --- |
| Width over 8'6″ if deemed a hazard | 1 |
| Width over 14′ | 1 escort (some routes might require an escort for vehicles over 12′ wide) |
| Width over 18′ | 2 escort vehicles |
| Length over 90′ up to 110′ | 1 escort vehicle |
| Length over 110′ | 2 escort vehicles |
| Height over 15'5″ | 1 escort vehicle and route survey (certain routes might require a route survey for lower heights) |
SIGNS, FLAGS & LIGHTS
"Oversize Load" or "Wide Load" signs required on the front of the towing unit and on the rear of the load for any oversize, overweight or overweight only load. Red flags at least 12″ square must be affixed to front right and left sides of the towing unit and to each corner of the load. Towing vehicles pulling oversize loads that exceed 12′ wide may display an amber rotating flashing beacon atop the cab.
RESTRICTED TRAVEL
Movement prohibited between the hours of 7:00 a.m. – 9:00 a.m. and 4:00 p.m. to 6:00 p.m. in the municipalities of Albuquerque, Santa Fe, and Espanola. In Santa Fe, the movement is also prohibited between the hours of 11:30 a.m. to 1:30 p.m., except for SR599. Curfew times do not apply to I-25 through Santa Fe, but they do apply on Interstates in Albuquerque. No movement is allowed when any weather condition restricts visibility to less than 1000′, or when wind speed is 25 miles per hour or more. No travel on major holidays. The closure may start at noon on the day before Holiday.